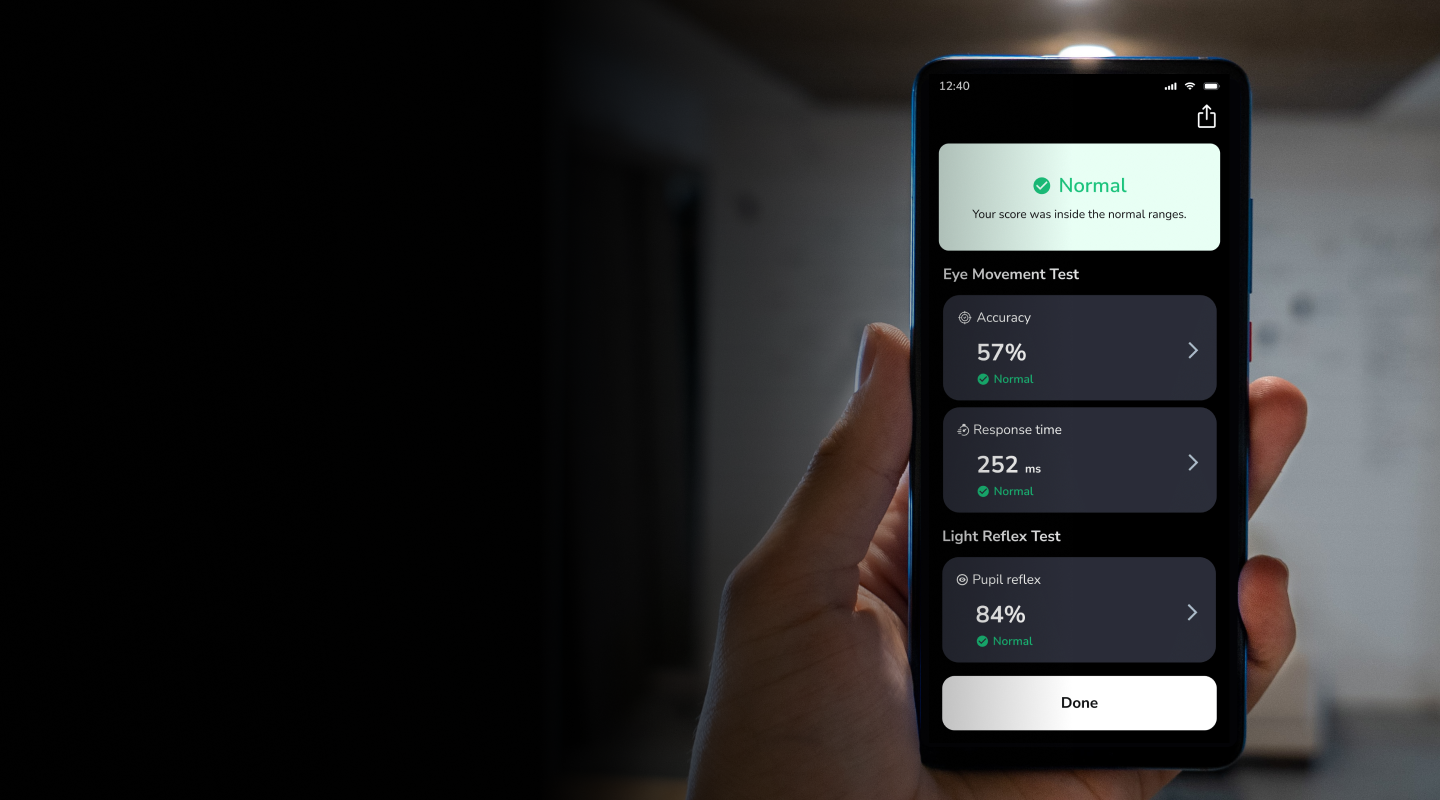 Track brain health, anywhere, anytime
Monitor and manage your brain health, all from the palm of your hand.
Our vision
At BioEye, our vision is to create a future where you can effortlessly take charge of your brain health using a smartphone. We strive for a world where early and affordable brain health testing is readily available to anyone, regardless of their location.
Our mission
We're on a mission to transform brain health assessments by providing an accessible and reliable tool for detection of brain abnormalities. We further empower individuals to monitor and improve their brain health, enhancing overall well-being and performance, while reducing the burden on healthcare systems.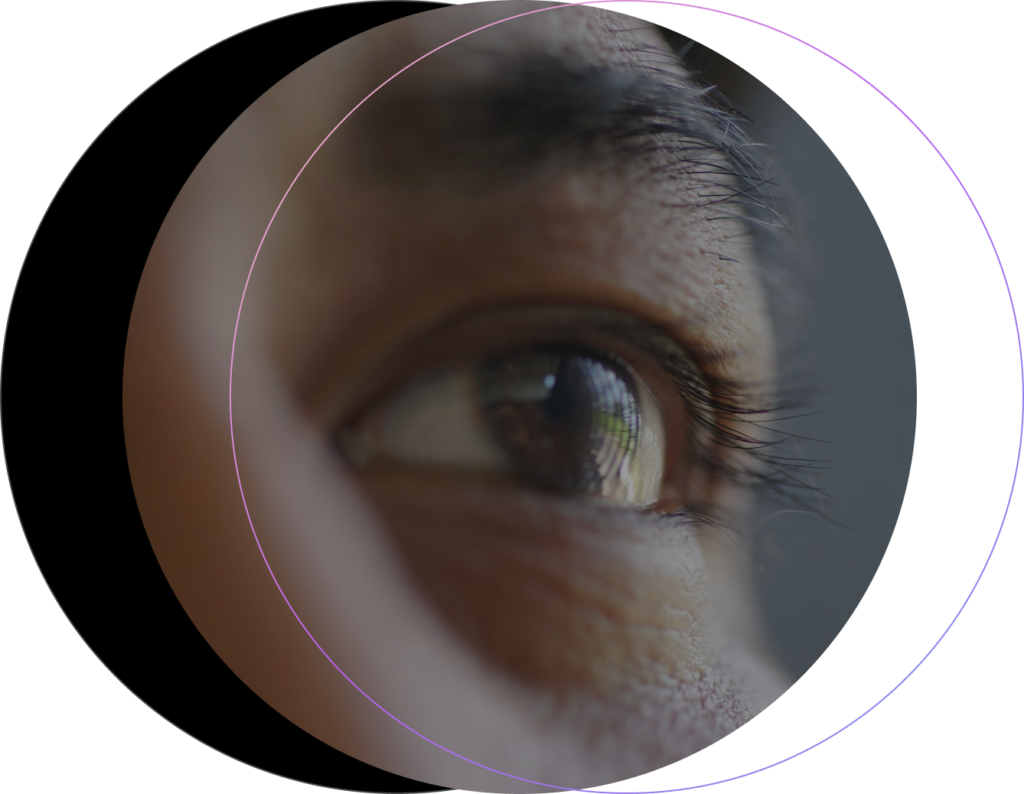 Manage your brain health with confidence
In this tech-savvy era, we monitor almost everything: our heart, our blood, our sleep. But our brain health is often overlooked.
BioEye bridges this gap with smartphone-based technology. An affordable and convenient solution, BioEye is a quick and reliable way to assess brain health. In just 60 seconds, it can identify any issues and help track your progress. It's your brain health passport — empowering you to own your data and observe changes over time.
The team behind BioEye
Meet our experts in technology, business, science and medicine.
Richard Nash
CEO
MedTech leader with 15+ years of experience in neurological disorders, spanning big industry (Medtronic) and international start-ups.
Marcus Schweizer
CTO
Health technology leader with 15+ years of experience inspiring teams to innovate and deploy complex AI and engineering solutions—notably at Deloitte.
Steven Barrett
COO
Experienced sales, marketing and operations executive with over 15 years working with and managing a wide range of stakeholders.
A/Prof Joanne Fielding
CSO
Primary Chief Investigator at MOMRL and research fellow in the Department of Neuroscience, with 20+ years of experience pioneering ocular motor science. Author of 100+ published papers.
Prof Owen White
CMO
Chief Investigator at MOMRL and clinical neurologist specialising in neuro-ophthalmology. Holds 20+ years of experience pioneering ocular motor science, with 100+ published papers.
Gadi Mikles
CPO
A senior leader in the fields of product and innovation with 16 years of experience, notably at eBay, focusing on AI and big data products.
Experience the BioEye difference
Where expertise meets innovation
With backgrounds in neurological disorders, health technology, clinical neurology, AI innovation and machine learning, our team has positioned BioEye at the forefront of ocular motor brain health assessments.
Proven technology, real results
The technology has undergone rigorous validation, through thousands of tests conducted to demonstrate its effectiveness. Using proven science and clinical research, BioEye has the power to reliably and accurately analyse brain health.
Age-old science, digitised
Traditional methods of neurological assessment, such as asking patients to follow a finger or shining lights into their eyes, are subjective, time-consuming and measure under 10% of the brain's neural pathways. BioEye provides reliable, objective data in real-time, offering a detailed insight into brain function by measuring over half of the brain's neurons.
Modern health management via smartphone
BioEye's sophisticated artificial intelligence combines proven science with smartphone technology advances, allowing brain health measurements to be quantified accurately, consistently and in real-time. At BioEye, we're here to empower individuals to take control of their brain health.
Our inspiration
I have spent most of my career in technology and innovations, which is a world away from the relatively 'primitive' cancer treatments that people like my beloved wife struggled with. I remember it as though it was yesterday, the shock diagnosis of triple negative stage 2 breast cancer.
We were totally stunned that a seemingly well 35-year-old woman, who lived such a healthy lifestyle, could be suffering from such an insidious disease. To our great sorrow we discovered that the cancer had spread to the lymph nodes, and the classification had increased to stage 3.
What followed was a horrific year for my dear wife and our young family. But at the same time, there were brief intervals where her disease regressed. We were able to realise many dreams together, go on amazing nature hikes, dine at some of the best restaurants, enjoy the latest and greatest movies and spend as much time as possible with our 2 beautiful children.
My wife took it upon herself to expand herself intellectually, beginning her lifelong ambition to obtain a law degree. Despite all of this, her cancer had metastasised to her brain and was rapidly growing. Despite fighting her illness heroically, my wife passed away just over 12 months from her original diagnosis.
Had we only discovered the disease earlier, there is a chance that my dear wife would still be alive today.
Early detection, of almost any disease, is the best weapon to fight it. BioEye might not be able to detect cancer, but the ocular motor system is known to give early indications for the presence of many ailments.
That is why I joined BioEye and why I am heading the product team. I believe we have the technology to make a difference. I am doing it for my Tali.
Gadi Mikles
Chief Product Officer, BioEye
In honour of Tali Mikles
1983 – 2020
A visionary breakthrough for brain health assessments.